Randolph County Crime Stoppers program is funded by private donations and fund raising. NO TAX DOLLARS are involved. The reward money paid out by our program is from the fundraisers and donations from concerned citizens and businesses. We currently have a 3 Chances to Win Raffle. Tickets will be on sell until December 30, 2023. The drawing will be held on December 31, 2023.
To purchase Raffle tickets you can contact us at randolphcrimestoppers@yahoo.com, or send us a message on our Facebook page: Randolph County Crime Stoppers.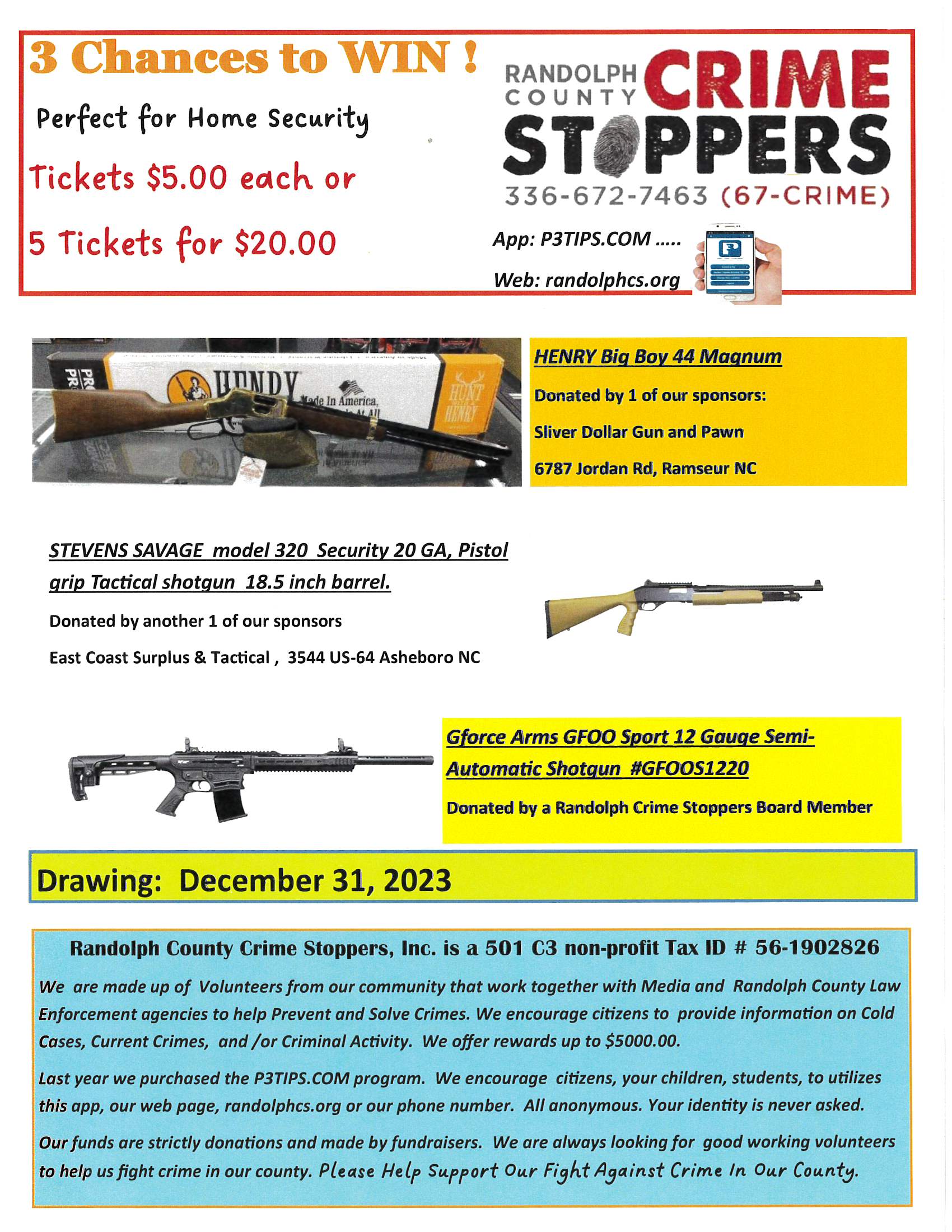 The Randolph County Crime Stoppers primary mission is to interact with law enforcement to establish a line of communication to provide monetary rewards for information leading to arrest. These cash rewards are paid to anonymous callers who convey information of known criminal actions and violations. These rewards are a method of assisting law enforcement agencies to narrow their investigations and provide recovery of stolen property, clearance of homicides, locate missing persons, seizures of illegal narcotics and provide closure of cold cases.
Our organization operates solely on donations and fundraisers. We do not receive any tax funds from city, county or state governmental agencies. The Board of Directors are all volunteers and are not compensated for their time or travel.
We ask that you/your organization/business join with us to facilitate the opportunity of sponsorships for increased verified cash rewards paid to the provider of needed information.
Click on the Sponsorship Opportunities tab for a listing of sponsor designation amounts that will be listed on our Facebook page and Website with a link to your webpage.
Thank you in advance and we are looking forward to our community partnership to help make Randolph County a safer place for our family, home, schools, and businesses.
If you have any questions, you can contact us on Facebook by message or email at randolphcrimestoppers@yahoo.com.